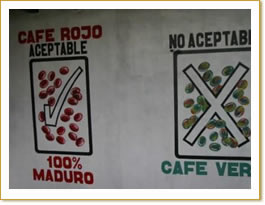 After changing flights and cars from Panama City, we finally arrived at a coffee town Boquete. There was a number of farms that had cultivated Geisha, which had been the center of global atenttention in coffee business. Also, ecotourism has been popular in this country, and they have taken meagers to environmental conservation. I think they have suggested an ideal environment for coffee production as Costa Rica has. We could stay relatively longer in Boquete and take enough time to see around each farm, and could learn their technique and thought about coffee cultivation.
Especially, I really liked Pt.Gran del Val, which already had put environmental management into practice before the Rainforest Alliance Verification was created. The owner Mr.Fernandes has been pretty lively though he is now in his eighties, and he guided us around the farm - I feel finest coffee always reflects the personality of the owner. I heard that they also had offered ecotourism for observing the farm, and lots of tourists came on the season.

Boquite - it is such an attractive city for both coffee and a resort. We wish to come back to this lovely place some day again.