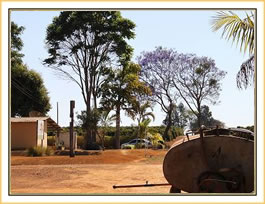 It was our third time to visit Brazil. There is a large number of coffee farms in Brazil obviously as you see its vast country, and this time, we have visited Mogiana, Cerrado, and Matas de Minas.

Mogiana is named after the Compania Mogiana Estrada de Ferro train line that used to be running the area. We flew from São Paulo to Altinopolis, and Pt. Canaa is located one hour ride from the city. The farm is owned by a sister of Ferrero who is the owner of the distinguished farm Pantano. There had been many Japanese immigrants, and we had an oppotunity to talk with eldery producers about the time of reclaimation. Canaa has gotten the Rainforest Alliance Certification. They are aware of the importance of environmental conservation, and they have taken good care of their land succeeded by their ancestors.
Then we have moved to Pt.Botanica in Cerrado to see Mr. Paulo with whom we have a long-term relationship. He said "I'm always thinking about HIRO's customers while working. Please tell them that I try my best to keep producing great coffee so that they can enjoy pleasant time with it.
We have also visited Manhuacu as final destination. It is hardly known in Japan yet, but it is surrounded by mountains and the scenery is completely different from that of Cerrado and Mogiana. There is a lot of shade trees and windbreaking forest among the producing area, and we went to see Mr.Vicente whose farm had won COE Brazil in 2000.