The Specialists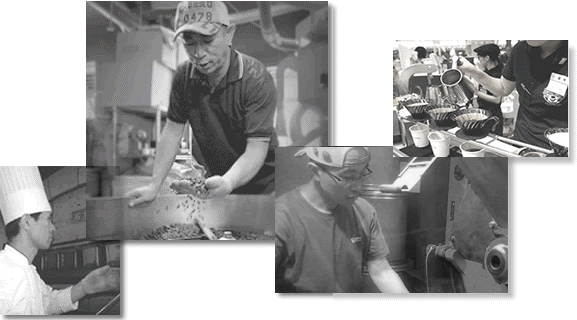 Introduction of our specialists who have been supporting the taste and brand of HIRO.

Roaster Nakahara
SCAJ Certified Coffee Meister. Used to be serving guests and now roasting the best coffee making use of the knowledge he has cultivated.

Master Roaster Yamamoto
SCAJ Certified Coffee Meister, and the top coffee grader of our plant in charge. He started his caeer at his 18th, and now knows throughly about the market trend and the industry.

Boulangerie Mori
Called "walking bread maker" - he has a wide practical knowledge of baking. Enjoy the best bread ever!

Mugigula Boulangerie Atelier
We change or blend various flours depending on the bread. Mugigula bread starts with chosing from the ingredients (flour, water, salt, natral yeast and etc.) to the oven. We are particular about all the processes, and there are further points on making the delicious bread.