Inagawa Patisserie Atelier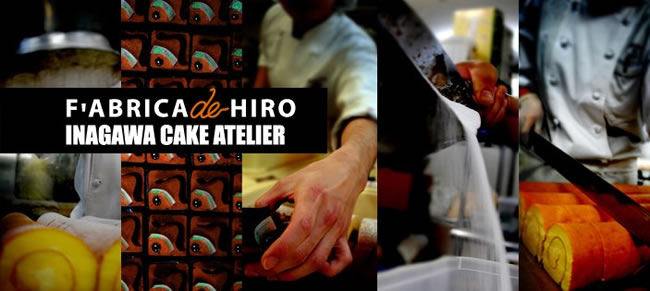 Fruit of finest ingredients and heart of the chef
Welcome to Inagawa Patisserie Atelier
Putting Heart into Cakes
With the seasonal changes, various colorful flowers start blooming inprofusion as if they were competing, and their fascinating fragrance and color always make us heart-walming. The more naturally we take natural things, the more we feel relaxed and smile, don't we?


We patisserie create seasonal cakes, hoping the customers become smile as blooming flowers with the cakes.

Carefully select the materials, and use utilize as they are...


We believe that our duty is just to help the power of nature a little bit, and should not do any excess. The finest cakes which are made with best ingredients, patisserie's sense of beauty, feelings, and technique play the song of delight.
Carefully Selected Materials
Rich flavor of Marcona Almonds from Spain, finest walnut from Shinshu area, and chocolate from Belgium and France... top-graded flour and enchanting scent of natural vanilla beans...

Selected specialty materials and the heart of chef are the secret of the deliciousness.
Fresh Cream - non-homogenized, and melt well in mouth



We use non-homogenized milk from Daisen, Tottori, and high-graded cream from Hokkaido in different fat content, depending on cakes, and do not use flavoring essence.
Butter - has fascinating flavor



It provides an unique flavor by getting milk fermented with lactobacillus, and it is indespensable for making sweets. There is a difference between each butter, and we use chilled butter as well as general ones.
Milk - selected special milk rich flavor



We use two kinds of special selected milk - one from the foot of Daisen, Tottori, and the other is rich in minerals and sterilized by heating at high temperature.
Eggs - contain lots of iodine



We use algit eggs from Kumazawa's in Suzuka, Mie. Because Norwagian algit for feed, they are well balanced in minerals and low in cholesterol, and taste elegant.
Fruit of Chef's Effort and Feelings
Each ingredient originally has strong charactor, and will be reborn by mixing with other materials in harmony.
They are all simple, but unique. Please enjoy the fascinating time with our special cakes.
Cheese Cake (Soft/Hard)

For the soft one, we use a cream cheese from Netherland, which is a bit hard and has well-balanced sourness. We use yogurt as well for creating the fresh aftertaste. It will be very nice with red tea. As for the hard one, we mainly use a soft cream cheese from France, and use a semi-hard one for making it thicker. It will be nice with strong coffee. We combinate a variety of cooking method and ingredients for making the most use of the flavor.

Hiro Daikoku

Using a plenty of Criollo chocolate from Venezuela. Although it looks a typical chocolate cake, but it has satisfying thick taste.

Cheese Cake (Soft/Hard)

Baked moist chiffon cakes with fresh cream from Hokkaido, and plused original butter cream with finest chilled butter, nutrishing algit eggs from Suzuka, Mie. The egg's flavor and the milky taste will remind you of something nostalgic.
Inagawa Patisserie Atelier
Adress: 5-15-1, Kita-itami, Itami, Hyogo, Japan
Tel: (+81)072-775-1002 Fax: 072-775-1006
Opening hour: 8:00-23:00 (last order 22:30)
Open throughout the year

Looking forward to meeting you in the store!